SIM Veterinary Products
Burs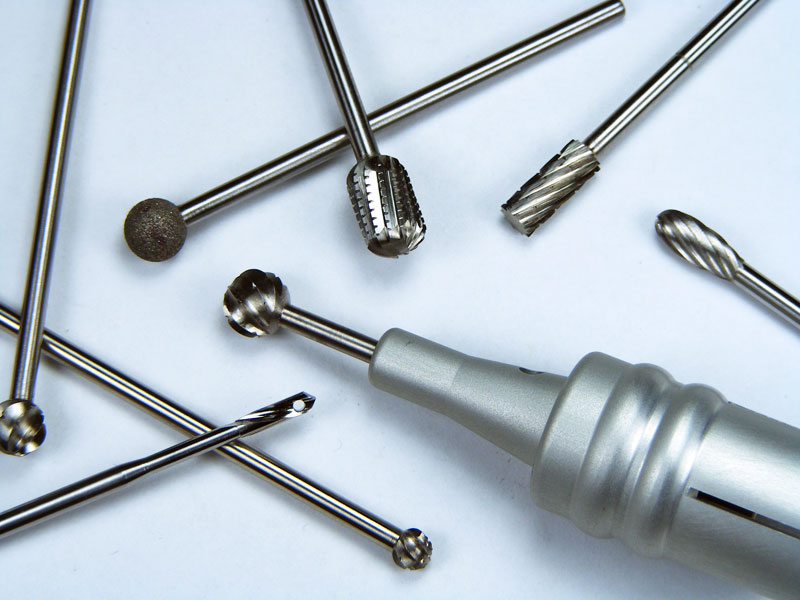 Fast Cut Burs
Our fast cut burs are constructed of surgical grade stainless steel and are hand sharpened for superior performance during surgery. Our fast cut burs include the added benefit of chip-breakers to further increase performance and eliminate harmonic distortion which leads to "chattering" or "skipping" when they first come into contact with the bone. The hand sharpening and chip breakers also lend themselves to drastically reducing the possibilities of thermal bone necrosis.
Diamond Burs
Our diamond burs are constructed of surgical grade stainless steel and are coated in a special process which leaves more of the diamond chips exposed. This allows for much smoother polishing action and reduces the possibility of thermal necrosis. Having more of the diamond chips exposed also extends the useful life of the bur, thus saving our customers money.
Special Shaped Burs
Our special shaped burs offer incredible flexibility for the veterinary surgeon. Constructed of surgical grade stainless steel and where applicable, include chip breakers. This line of burs offer the same great performance as our fast cut burs with the flexibility in shape to perform any number of surgical tasks. We have seen that this line of burs has been very well received by veterinary neurosurgeons.
*Please note that any of our burs can be cut-down to accommodate any special length requests at no additional charge. While not shown in our catalog, most burs are also available in lengths up to 95 mm and a few up to 125 mm.
Bur Guards
Our bur guards are made of an aluminum alloy that gives them the required strength and support without adding unnecessary weight to the nose of the drill. These bur guards work with Hall® and 3M® drills. The design of our bur guards allows for replacement of the nose bearing. The cost of this repair is a fraction of buying new.
Blades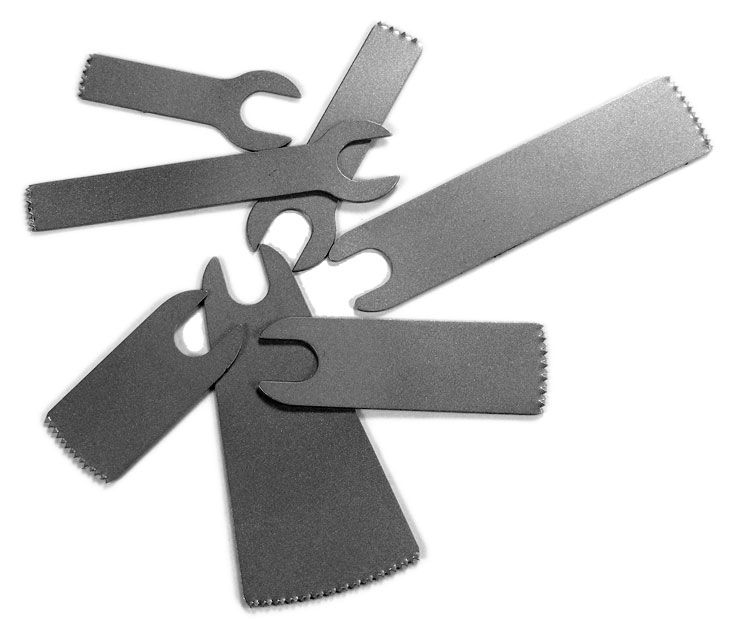 Small Bone Blades
Our line of small bone blades consists of sagittal, oscillating and reciprocating blades. All are constructed of surgical grade stainless steel. They are offered in various attachment types for use in numerous saws including Hall®, Linvatec®, 3M®, Stryker®, MicroAire® and Ergo®.
Large Bone Blades
Our large bone blades have a very unique feature originally designed for human total knee replacement systems. The teeth of the blades are offset within the thickness of the blade. This reduces the kerf of the incision and reduces bone loss. Originally designed to work in concert with a template or guide, these blades made very exacting cuts and drastically reduced the need of revisions within the early years of the implant. Our large bone blades are designed to fit saws manufactured by Hall®, Linvatec®, 3M® and Stryker®.
Arbored Blades
SIM Veterinary offers several types of surgical blades with triangular arbors. These surgical blades are for use in saws ranging from the older Stryker® & Ergo® saws and even the new line of TPLO saws. This type of blade has been in use for decades and still has the well-earned reputation for strength, accuracy and longevity.